Introducing our Magnetic Shower Organizer – a revolutionary solution to elevate your bathroom organization. This innovative organizer utilizes strong magnets to securely attach to the metallic surfaces of your shower, providing a sleek and clutter-free storage solution for your bath essentials.Crafted with durability and modern design in mind, the Magnetic Shower Organizer is made from high-quality, water-resistant materials. The powerful magnets ensure a secure grip, keeping the organizer firmly in place even in wet environments.Featuring multiple compartments and shelves, this organizer offers versatile storage for shampoo bottles, soap, razors, and more. Its modular design allows you to arrange the components according to your preferences, creating a personalized and functional storage space.Installation is a breeze – simply attach the Magnetic Shower Organizer to the metallic surface of your shower, and it's ready to use. No tools or drilling are required, making it an ideal choice for those who prefer a hassle-free installation process.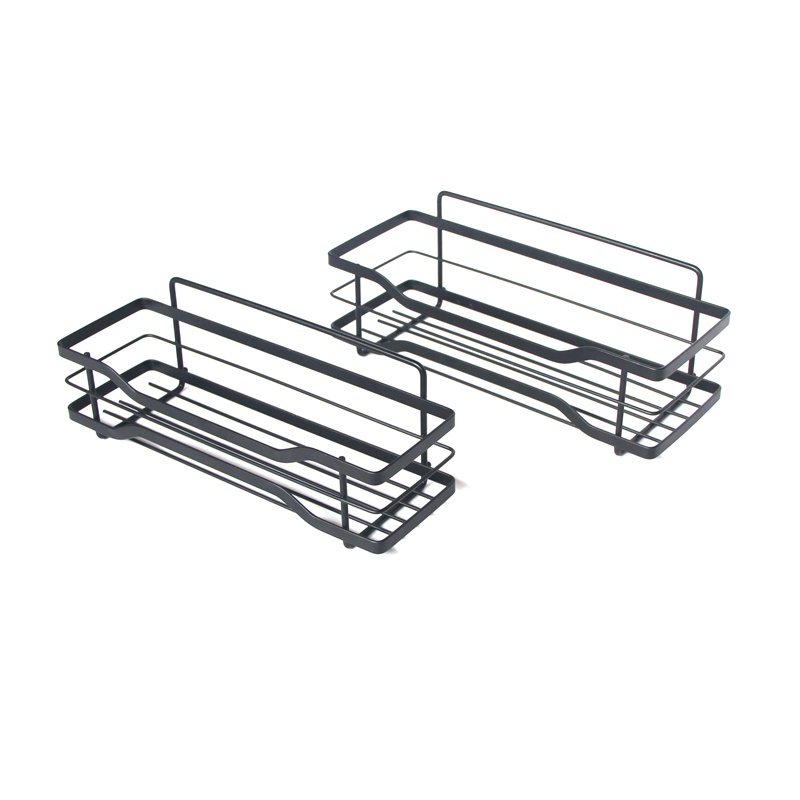 Magnetic Shower Organizer Features:
1.Innovative Magnetic Attachment:
Shower Organizer No Drilling utilizes innovative magnetic technology, securely attaching to the metallic surfaces of the shower. This feature eliminates the need for traditional installation methods like drilling, providing a convenient and tool-free setup.
2.Secure Grip in Wet Environments:
Crafted with powerful magnets,Magnetic Shampoo Holder ensures a secure grip even in wet environments. This feature guarantees that the organizer stays firmly in place during showers, preventing accidental slips or falls.
3.Water-Resistant and Durable Materials:
Made from high-quality, water-resistant materials, Magnetic Storage Caddy is built to withstand the humid conditions of the bathroom. Its durable construction ensures longevity and resistance to water-related damage.
4.Versatile Storage Compartments:
Featuring multiple compartments and shelves, Wall-Mounted Magnetic Bathroom Organizer offers versatile storage options for various bath essentials. Users can customize the arrangement to accommodate different items, promoting a well-organized shower space.
5.Modular Design for Personalization:
Wall Modern Magnetic Shower Caddy allows users to personalize the storage configuration. Arrange the components according to individual preferences, creating a tailored and functional organization system.
6.Hassle-Free Installation:
Installation is hassle-free and quick. With no need for tools or drilling, users can effortlessly attach Shower Organizer No Drilling to metallic shower surfaces, making it an ideal solution for those who prefer easy and non-permanent installation.
Rental Apartments:
Ideal for rental apartments, the Magnetic Shower Organizer offers a non-permanent storage solution. Tenants can enjoy an organized shower space without the need for permanent modifications.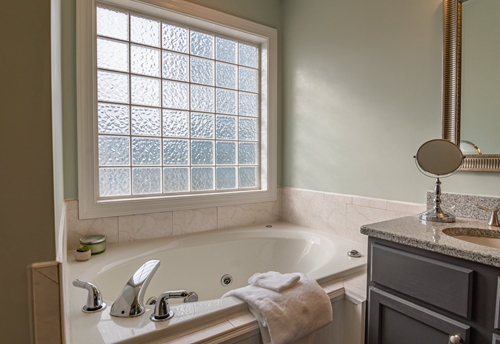 Modern Bathroom Designs:
Suited for modern bathroom designs, the sleek and contemporary aesthetics of the Magnetic Shower Organizer complement minimalist and sophisticated interior styles, adding a functional and stylish element to the shower space.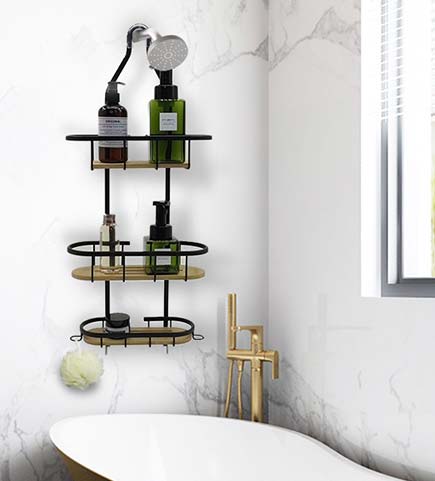 Hotel and Guest Bathrooms:
Hotels and guesthouses can enhance the guest experience by incorporating the Magnetic Shower Organizer. It provides a convenient and organized storage solution for guests during their stay.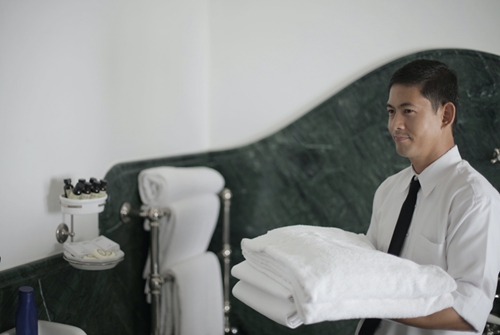 Factory Information:
Place of Origin: China
Function: Storage
Finish: Powder coating, chrome plating, electrolyzation
Material: Steel, stainless steel
Logo: Accept Customized Logo
OEM/ODM: Both Available
Packaging: Standard export packaging
Transportation: By sea, by air, by truck
Application: Kitchen, Bathroom, Household
Payment Method: TT, LC
Terms of Trade: Ex-work, FOB, CIF, CFR
Supply Capacity: Monthly production capacity of 30W pcs
Quality/Safety Certification: REACH, LFGB, FDA, ROHS, NSF, PROP65
More Detail About Magnetic Shower Organizer

: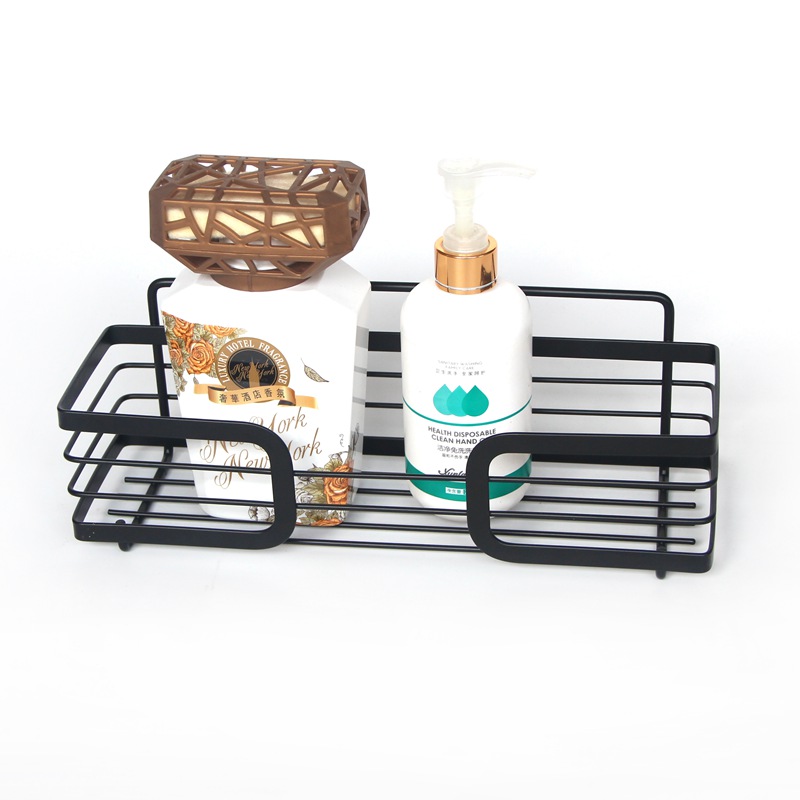 Magnetic Shower Organizer FAQs:
How does the Magnetic Shower Organizer stay in place in a wet environment?
The Magnetic Shower Organizer is equipped with powerful magnets that provide a secure grip on metallic shower surfaces, ensuring it stays firmly in place even in wet conditions.
Is the Magnetic Shower Organizer compatible with all types of showers?
Yes, the organizer is designed to be compatible with most metallic shower surfaces. However, it may not adhere to non-metallic surfaces. Ensure your shower has metallic areas for optimal functionality.
Can the magnets cause damage to the shower's metallic surface?
No, the magnets are specifically designed to provide a strong grip without causing damage to the metallic surface of the shower. They are safe for use and will not scratch or harm the finish.
Can the organizer be easily moved or repositioned?
Yes, the Magnetic Shower Organizer can be easily moved or repositioned on the metallic surface. The magnetic attachment allows for convenient adjustments without the need for tools.
Is the organizer suitable for tiled shower walls?
The Magnetic Shower Organizer is designed for use on metallic surfaces. While it may adhere to some types of metal tiles, it may not be suitable for non-metallic or certain tile surfaces. Verify compatibility before installation.
Can the organizer be used in rental properties without causing damage?
Yes, the Magnetic Shower Organizer is ideal for rental properties. Its non-permanent installation allows for easy removal without causing damage to bathroom surfaces, providing flexibility for tenants.
----------------------------------------------------------------------------------------------------------------------------------
>Company Profile
Founded in 1998, with 18000 m² floor area and 300 workers, certified by ISO9001 and BSCI, Yanuo becomes one of the most well-known names in China, specializes in supplying high-quality wire series products, such as Sink Grid, Pull out Cabinet Organizer and Shower Caddy Tension Pole ect.
With its stable quality and competitive price, Yanuo establishes long-term cooperative relationships with over 17 countries as well as some famous worldwide brands, Yanuo will always adhere to the principle of " customer first" and "forge ahead" and constantly explore and innovate.
----------------------------------------------------------------------------------------------------------------------------------
>Company Advantage
--- Yanuo is one of the best Wire Series Products manufacturers in China for Sink Grid, Pull Out Cabinet Organizer and Shower Caddy Tension Pole.
1.Professional Manufacturer
25+ years Wire Series Products manufacturing experience
2.Complete Production Equipment
18000 m² workshop includes Cutting, Bending, Punching, Welding, Trimming, Polishing and Packing
3.Strong R & D Capacity
Professional R & D team(4 people)
Monthly new designs: 12
4.Stable Production Capacity
Monthly capacity: 30W pcs
Moulding lead time: 7-10 days
Products lead time: 25-30 days
5.Effective Quality-Assurance-System
100% online inspection and self final inspection accordingly to AQL
LFGB, FDA, Reach, Prop65 test applicable
6.Continuous LPM ( Lean Production Management)
Cost saving
Automatic production line
Reduce waste losses
Employee training
Reduce inventory costs
7.Competitive Price
Strict cost control; Reduce cost and increase efficiency by optimizing product design
8.Comprehensive Customer Service System
Always adhere to the principle of " customer first"
Quote: within 24 hours
Customer complaint: response within 24 hours
Preliminary investigation within 3 working days
Detailed investigation and provide final solution within 7 working days